Naga City - The Heart of Bicol has a lot of homegrown coffee shops answering to the call of 'coffeholics'. One to many is the Cafe Frederico as the in-house cafe of
Crown Hotel
. Because the hotel boasts the best view in the Central Business District 1 of Naga, the least thing that you can do if you're not checking in is to dine at Cafe Frederico.
We have no skyscrapers in Naga that offers the best view of the city while enjoying good food, but Cafe Frederico is the closest thing we've got located on the 2nd level of Crown Hotel. It may not give us an aerial view of the whole city, but it's worth your time because the best things in Naga City can be seen up close and personal.
*NEW BLOG POST* 31Aug2015
New Dimsums at the Crown Park Restaurant HERE
As of writing, the menu they offer is that of the Crown Park Restaurant. Mainly because many of the customers enjoy Crown Park Restaurants food while staying in Cafe Frederico which is on the 2nd level of the hotel. Soon they will serving a different menu and we're sure this is something to look forward to.
Photo by NickAstig.me
Just like staying in
Crown Hotel
, it offers the best view of the city day or night. Crown Park Restaurant is also one of the first Chinese restaurants in the city and in my own personal opinion, one of the best. The authentic Chinese herbs and spices is very noticeable in smell and in taste. The food plus the classic view of the city makes this restaurant special and can make you feel like a local.
I often describe this view as that of a large screen, live feed television of Naga City, in it's pure and classic awesomeness form of Naga's city lights, cars and busy Nagueños. And as one fellow NcDecker said on our Facebook Page: "...with no commercial breaks!"
Best Sellers: Beef Brisket and new Mini Hungma Bread
Photo by @nickastig
Sal & Pepper Spareribs - Php 265
Fish Fillet Tofu (Hot Pot) - Php 210
Iced Tea Pitcher - Php 110
Salted Fried Rice - Php 145
Center: Shrimp Ginger Onion - Php 290
Green Seafood Soup Php 190
Broccoli Beef Php 365
Hototay soup is also my personal favorite.
Starbucks isn't the only one serving Coffee Jelly! Cafe Frederico & Crown Park Restaurant does too!
Perfectly smooth coffee flavored gelatin topped with vanilla ice cream. Just perfect for your dessert!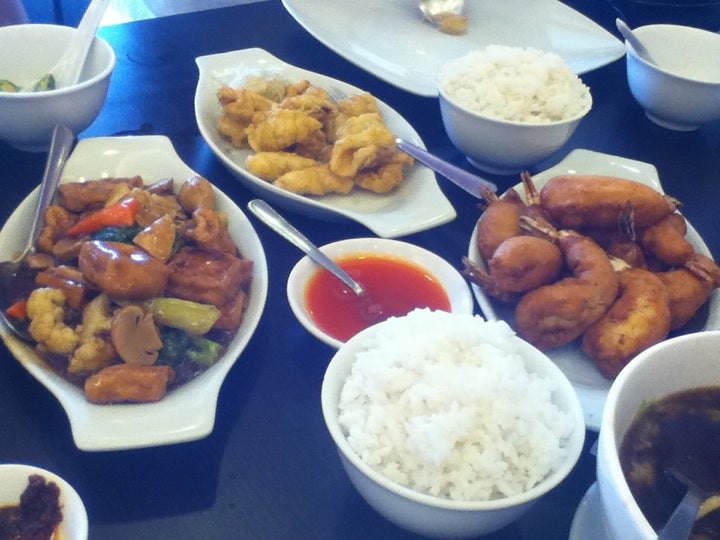 Other Crown Park Faves from my Foursquare Account Check-Ins
Four Seasons - also one of my personal favorites
Best Sellers: Hungma and Hungma Bread
Cafe Frederico is also open to venues for meetings, celebrations and the like.
Superb Chinese Food + Classic View of Naga = Authentic Naga Experience brought to you by Cafe Frederico and Crown Park Restaurant
*Prices are subject to change without prior notice*
Cafe Federico Crown Hotel
2nd Level, New Crown Hotel
Elias Angeles corner P. Burgos Sts.,
Naga City, Bicol, Philippines
Crown Park Restaurant (also with SM City Naga Branch)
Elias Angeles corner P. Burgos Sts.,
Phone Number
(+63 54)
473-1845
Crown Park Restaurant
*NEW BLOG POST* 31Aug2015
New Dimsums at the Crown Park Restaurant HERE
Crown Park Restaurant